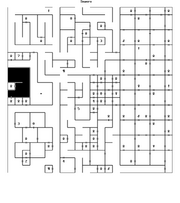 In the deepest level of the Sewers beneath the Wine Cellar of the Scarlet Bard, the fights are a good bit tougher than above, but the loot starts to get much more interesting, as well!
Be careful to save enough spell points to cast a Levitation spell - the only way back upstairs is by levitating through a portal! However, if you have access to 7th level Conjurer spells, it's much easier to teleport three levels back up to the first level of the Wine Cellar and walk out.
Note: this level serves as the "backdoor" to pass beyond the Iron Gates guarding Mangar's Tower in Skara Brae. However, you cannot enter the Tower without having first obtained the Onyx Key from Kylearan.
The monsters down here are decidedly tougher than in the upper two levels of the Sewers - indeed, these monster can also be found in the first level of the Catacombs. Recommended Spell Resistance for this level to fully repel enemy spells is 11. Fixed fights are with either Black Widows or Spinners, but the weaker non-poisonous spiders can still be found in random encounters.
| | Hit Points | AC | Damage | Exp | Group | Special Attack |
| --- | --- | --- | --- | --- | --- | --- |
| Orc | 6-13 | 7 | 3-12 | 100 | 8 | |
| Skeleton | 8-15 | 6 | 3-12 | 110 | 4 | |
| Nomad | 8-15 | 6 | 3-12 | 120 | 4 | |
| Spider | 4-11 | 6 | 3-12 | 150 | 4 | |
| Mad Dog | 4-11 | 7 | 2-8 | 180 | 8 | |
| Barbarian | 10-17 | 6 | 4-16 | 200 | 8 | |
| Mercenary | 8-15 | 5 | 3-12 | 220 | 4 | |
| Wolf | 10-17 | 6 | 4-16 | 256 | 8 | |
| Jade Monk | 2-9 | 7 | 5-20 | 256 | 4 | |
| Half Orc | 12-19 | 5 | 4-16 | 256 | 8 | |
| Swordsman | 12-19 | 4 | 4-16 | 512 | 4 | |
| Zombie | 12-19 | 5 | 5-20 | 512 | 4 | |
| Conjurer | 2-9 | 7 | 3-12 | 512 | 4 | Single Target Damage, Miss Attack |
| Magician | 2-9 | 7 | 3-12 | 512 | 4 | Wither |
| Sorcerer | 2-9 | 7 | 3-12 | 768 | 4 | Group Damage, Miss Attack |
| Wizard | 2-9 | 7 | 3-12 | 768 | 4 | |
| Samurai | 4-19 | 4 | 5-20 | 1024 | 8 | |
| Black Widow | 2-17 | 5 | 5-20 | 1024 | 8 | Poison |
| Assassin | 2-17 | 4 | 4-16 | 1024 | 8 | |
| Werewolf | 4-19 | 5 | 5-20 | 1024 | 4 | |
| Ogre | 8-23 | 4 | 6-24 | 1024 | 4 | |
| Wight | 6-21 | 4 | 5-20 | 1024 | 4 | Wither |
| Statue | 8-23 | 4 | 5-20 | 1024 | 4 | |
| Bladesman | 12-27 | 4 | 6-24 | 1280 | 8 | |
| Goblin Lord | 12-27 | 3 | 6-24 | 1280 | 4 | |
| Master Thief | 10-25 | 5 | 5-20 | 1280 | 4 | |
Loot begins to include more magical gear, but traps also begin to include GAS CLOUD and SHOCKER. Items that can be found in chests here include:
| Armor | Weapons | Other Items |
| --- | --- | --- |
| Robes | Staff | Mandolin |
| Gauntlets | Mace | Harp |
| Leather Glvs | Mthr Sword | Flute |
| Helm | Mthr Dagger | Lightwand |
| Buckler | Mthr Mace | Fire Horn |
| Tower Shield | Mthr Axe | Lak's Lyre |
| Leather Armor | Bardsword | Samurai Fgn |
| Chain Mail | | Ogre Fgn |
| Scale Armor | | |
| Plate Armor | | |
| Bracers [6] | | |
| Mthr Shield | | |
| Mthr Helm | | |
| Mthr Gloves | | |
| Mthr Chain | | |
| Mthr Scale | | |
| Mthr Plate | | |