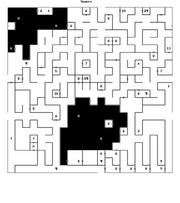 The middle level of the Sewers beneath the Wine Cellar of the Scarlet Bard is a bit tougher than the floor above, but we have deeper still to go... However, there won't be a nice staircase to saunter down this time!
To go down to the last level of the Sewers, you'll need to jump (or levitate) down a portal in the floor by pressing [D] - jumping down without a levitate spell active will damage the party. There are two portals one at 21 east, 11 north, and another at 5 east, 21 north (beyond a large room of Darkness!). To get back up through a portal, you'll need to have a levitation spell active and press [A].
A magic mouth on the wall speaks: Know this, that a man called Tarjan, thought to many to be insane, had through wizardly powers proclaimed himself a god in Skara Brae a hundred years ago. His image is locked in stone until made whole again...
At coordinates 0 east, 4 north, there is a square containing a light beam which cannot be passed during the daytime - attempting to do so will damage your entire party - this passage blocks you from reaching the magic mouth at 3 east, 4 north, which reveals the password to the
Catacombs
!
The random monsters encountered in the 2nd level of the Sewers are identical to those on the first - a Spell Resistance score of 10 is still sufficient to resist. Likewise, the fixed fights all involve either Spiders or Black Widows like upstairs, though in greater numbers.
| | Hit Points | AC | Damage | Exp | Group | Special Attack |
| --- | --- | --- | --- | --- | --- | --- |
| Conjurer | 2-9 | 9 | 1-4 | 100 | 4 | [ARFI] |
| Magician | 2-9 | 9 | 1-4 | 100 | 4 | Wither! |
| Orc | 6-13 | 7 | 3-12 | 100 | 8 | |
| Skeleton | 8-15 | 6 | 3-12 | 110 | 4 | |
| Nomad | 8-15 | 6 | 3-12 | 120 | 4 | |
| Spider | 4-11 | 6 | 3-12 | 150 | 4 | |
| Mad Dog | 4-11 | 7 | 2-8 | 180 | 8 | |
| Barbarian | 10-17 | 6 | 4-16 | 200 | 8 | |
| Mercenary | 8-15 | 5 | 3-12 | 220 | 4 | |
| Wolf | 10-17 | 6 | 4-16 | 256 | 4 | |
| Jade Monk | 2-9 | 7 | 5-20 | 256 | 4 | |
| Half Orc | 12-19 | 5 | 4-16 | 256 | 8 | |
| Swordsman | 12-19 | 4 | 4-16 | 512 | 4 | |
| Zombie | 12-19 | 5 | 5-20 | 512 | 4 | |
| Sorcerer | 2-9 | 7 | 3-12 | 768 | 4 | [MIBL] |
Items that can be found in chests here:
| Armor | Weapons | Other Items |
| --- | --- | --- |
| Robes | Staff | Mandolin |
| Buckler | Mace | Harp |
| Tower Shield | Mthr Sword | Flute |
| Leather Armor | | |
| Chain Mail | | |
| Scale Armor | | |
| Plate Armor | | |
| Helm | | |
| Gauntlets | | |
| Leather Glvs | | |