(
This page is in reference to The Bard's Tale (NES)
)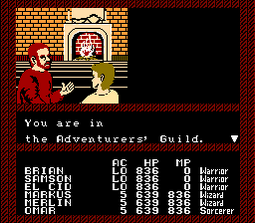 The Adventurers' Guild is home to the few remnants who dare to oppose Mangar. The Guildmaster presents you with choices to create and modify your party and settings:
Settings/Options:
Edit
Leave Guild: Head out to Skara Brae, must have one member in party.
Check Status:  Check party members stats, level, exp, gold, etc.
Share Gold: Split gold amongst all members in party.
Save: Saves parties information.
Party: Goes to Party options, same as pressing B Button
Speed: Set message speed (Both field and battle) as Slow, Mid, or Fast.
Party Options:
Edit
Add Member: Add member to your party.
Remove Member: Remove member from party, and is place into the guild (does not delete member.)
Break Up: Places all members in party into the guild. (Saves information like 'Save' option. Does not delete members)
Name Party: Names party and keeps a list of the party, keeping the members in party order for a later use.           
(Instead of adding each individual party member again, members can be accessed in their order by choosing the new party name. Ex: Add member * 'ATEAM'
Other Members: Check other guild members stats, level, exp, gold, etc.
Create: select from four options.
Create: Select new members class, and agree to his/her stats.
Change Name: Rename Party or members placed in guild.
Delete: Permanently deletes member or party name from guild.
Done: Goes back to Party Options.

Done: Goes back to Settings/Options